Supporting parents/carers of children with, or concerned about, ADHD.
We're a voluntary, independent, non-funded, parent carer support group for the neuro-developmental condition -Attention Deficit Hyperactivity Disorder & all its comorbidities
Visit

Events 

and our

Facebook page. Subscribe to our daily Blog 
WHAT'S ON? WHAT NEWS?
Feb 22: Medication, diagnosis & Camhs is our topic with Dr Phil Ferreira-Lay on Wednesday evening Feb 22. We offer you the chance to vent your feelings about ADHD services. Ask questions about medication and diagnosis too. We have only a few seats left so book NOW to avoid disappointment. Email: communications@adhdrichmond.org
***********************************
Feb 24 and more dates For Sen Talk activities. Read more about what SEN Talk can offer your ADHD child here: session-topic_bsip  (Sen Talk are coming to see us on Tues 4 July)
***********************************
Feb 25: ADHD Richmond Play-Meet Up at Marble Hill Park 1000-1200. Email: Jenny Cooper – jennypcoop@hotmail.co.uk – if you're interested in taking you child/ren along to Marble Hill Adventure Playground to meet up with other children with ADHD & comorbidities
Visit their website @ http://marblehillplaycentres.com/adventure-playground/
***********************************
Feb 28: What can a school do to support your child?  And what can't it do?
This workshop, run by members of the SEND Family Voices at the invitation of the host school, focuses on children and young people in mainstream schools where needs are often being identified for the first time (eg dyslexia, high functioning autism and adhd).  There will be a focus on dyslexia and what both school and home can do.  Similar approaches can be considered best practice for high functioning autism, social communications and adhd.
Both parents and professionals are welcome to attend. We have been asked to run these in three different schools in both Kingston and Richmond during Spring 2017.    Initial dates below, more to follow – please contact us for more information.
These workshop are taking place during Tragalgar's whole school project on emotional health & well-being.  We expect to touch on this area as well, in terms of sources of help.
28th February – 9.30am to 11.30am and 7pm to 9pm Trafalgar Junior School, Elmsleigh Rd, Twickenham
21st March  9.30am to 11.30am and 7pm to 9pm Grand Avenue Primary School, Grand Avenue, Surbiton, KT5 9HU
Email: SENDFamilyVoices@outlook.com to book your place
***********************************
February-May: Meet our new Interim Head of Integrated Service at Achieving for Children –  Heather Anderson – at these parent/carer drop-in sessions:
Moor Lane Centre, Chessington                      Croft Centre, Kew –
Monday 6th March 2017 10.00-12.00pm            Wed 5th April 2017   12.00pm-1.30pm
Monday 9th May 2017 12.00-1.30pm                    Wednesday 7th June 2017 10.00-12.00pm
***********************************
March 7: How does OT benefit your ADHD child? Two therapists will look at how ADHD affects your child's schoolwork; social life and home life. They are bringing some OT equipment to show you and will do some practical demonstrations. Come and discover how OT can make a great change. You MUST book, email: communications@adhdrichmond.org
*******************************
 March 9:  FREE Music event about ADHD / ASD and PD at the Basement Club, John Bunyan Centre, titled "Lift the Blues". It's a chance for you tell the NHS whay you think about ADHD services
*******************************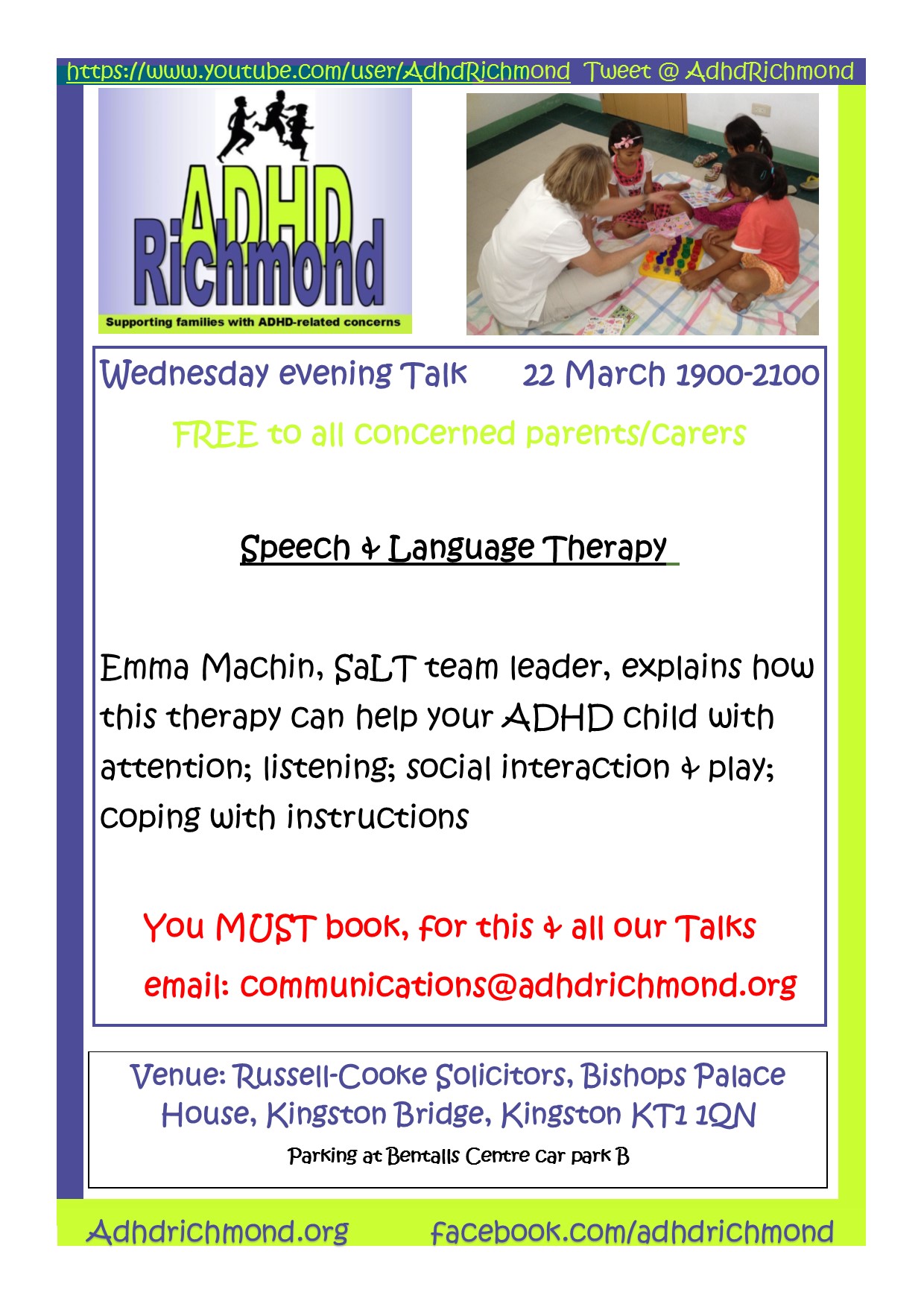 March 22: Our evening Talk for March looks into the work of the SaLT teams in schools. This is an important therapy for ADHD children. Come along and find out how it can improve your child's life. Open to all concerned parents/carers. You must book by emailing: communications@adhdrichmond.org
*******************************
Get your child a disability pass from Chessington World of Adventures
Find more benefits under this website's tab – Funding
*******************************
April 26 starts: ADHD Richmond & Achieving for Children offer the next WhyTry programme for Yrs 9-11 youngsters at Clarendon School 4.30pm
Why Try? is a group for young people in Richmond in Years 9, 10 or 11 who have a diagnosis of ADHD and may be struggling at home or at school. Why Try? is a strengths-based approach to helping young people overcome their challenges and improve their futures.
The group meets weekly after school for eight to 10 weeks and focuses on motivation and emotional health as well as having fun!
Please contact Val Ivens asap to put a young person forward: info@adhdrichmond.org
See our why-try-10 flyer
*******************************
ADHD Richmond offers teenage girls with ADHD the chance to make a video of their choosing about the condition. This is a 6 week session run by two Occupational Therapists.
Contact Val Ivens: info@adhdrichmond.org asap with your child's name and details
*******************************
BBC Horizon is making a documentary exploring ADHD, aiming to create a wider public understanding of the condition. Presented by Rory Bremner, a comedian with a particular interest in ADHD, we are hoping to shed light on this commonly misunderstood condition.
They want to meet parents of children with ADHD who can tell them about what life's like; and to also hear from your child about their own experience of the condition.
If you're interested, please get in touch with the production team on adhdhorizon@bbc.co.uk just for a chat in the first instance
*******************************
Wed 3rd May start: FREE to first 10 to book and pay. We are subsidising these workshops.  Parents/carers MUST sign up for ALL the sessions.
Ever get that 'stuck' feeling?
Our experience as parents with children with additional needs can prompt difficult feelings. It's easy to feel isolated and worn down.  Children can present behaviour that challenges our confidence in our own competence!
Families helping Families  is a new project that offers reflective and analytical tools to parents.  In a group facilitated by a qualified therapist, parents work together to generate insight into what behaviour means, resourcing each other with new ideas and strategies.  Families benefit from new tools, a new perspective on what they are experiencing and a shared sense of community.
Facilitator:  Bridget McCabe MA, MBACP, Integrative Child and Adolescent Psychotherapist trained with Terapia/University of Middlesex. She has worked with individual children in primary and secondary schools and has worked in the Safe Team (Borough of Ealing) as a family worker helping 13-19 year-old young people and their families.  Prior to her life as a therapist, Bridget was a nurse and later a holistic health practitioner.  Bridget has three children, one of whom has special needs.
Sign Up Early! The Families Helping Families Program will run weekly for seven sessions Starting Date: Wed 3rd May End Date: Wed 21st June Time: 9:45 – 12:15pm
Venue: Mina Hogan Room, St Mary's Parish Hall, Langham Road, Teddington, Middx TW11 9HF
Cost: Free
Contact: Valerie Ivens Tel: 07768600706 valerieivens@me.com
***********************************
These are the evening Talks we have arranged for you in 2017. If these are well supported, we intend to extend our 7-month trial period.
You MUST book for each event –  Email: communications@adhdrichmond.org
Please  print/email/deliver this flyer to your GP surgery, hospital, library, school etc.
***********************************
These are the FREE daytime Talks in 2017 we have arranged so far. Please make a note in your diary now of them all.
You MUST book for each event –  Email: communications@adhdrichmond.org
Please  print/email/deliver this flyer to your GP surgery, hospital, library, school etc…
***********************************
Website created, managed & sponsored by Alastair Yates
Our venue is kindly donated by Russell-Cooke Solicitors, Kingston
Email hosting by Zoho